Branch Forest Campus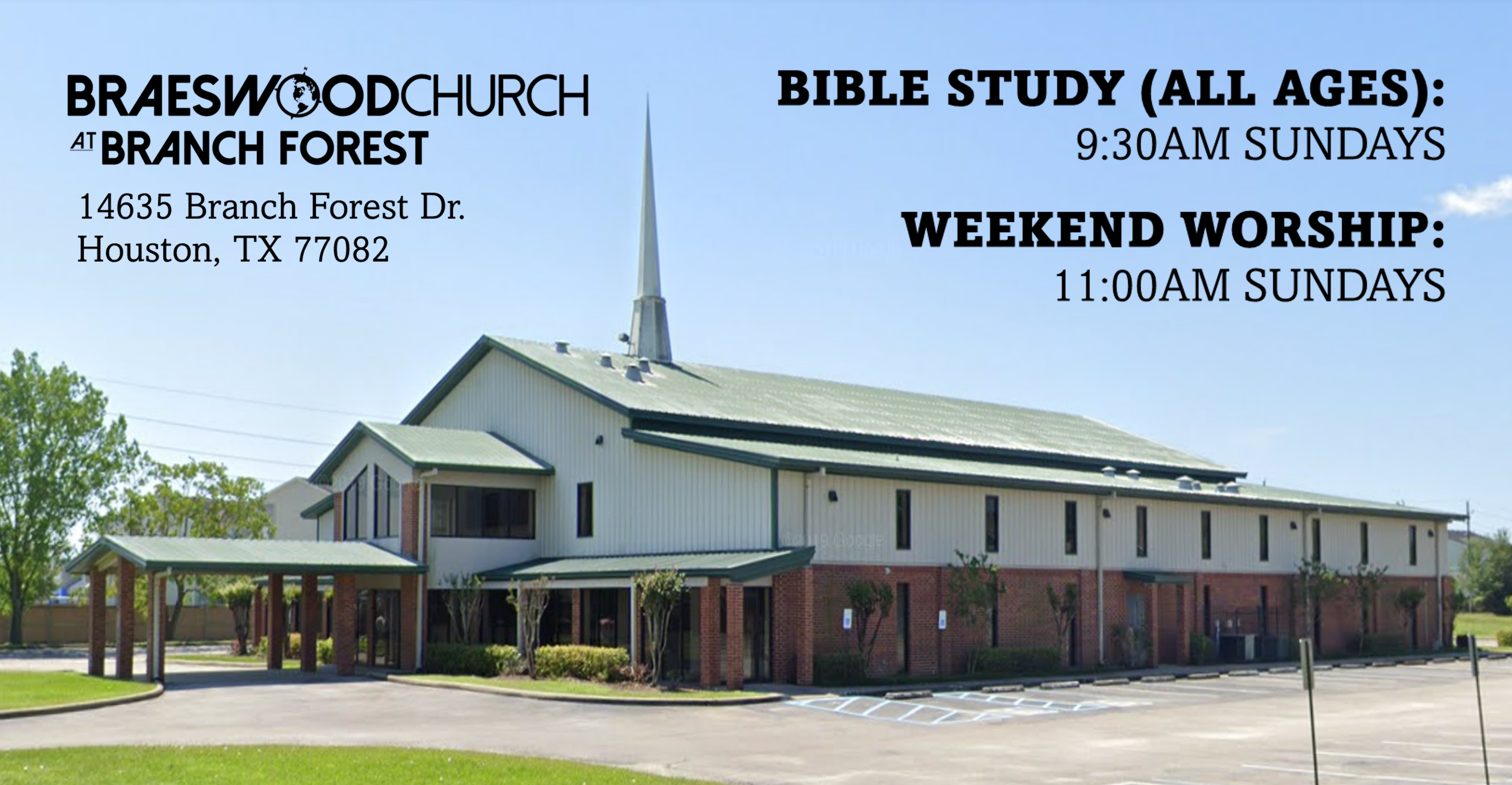 >> BIBLE STUDY
At our church, "community" isn't something that we DO; it's who we ARE because we believe discipleship happens when children, teenagers, and adults come together to build friendships, study God's Word together, and share in life's experiences.

For us, CONNECT GROUPS is the vehicle by which this happens, and we would love for you to be a part of our community. That's why, every week, several relational groups gather for in-person Bible study. If you would like more information about class offerings and locations, please click HERE.

>> WATER BAPTISM
We believe that water baptism is a public declaration of three important things: you are a follower of Jesus Christ, you are beginning a changed life in Christ, and you are part of a new family. Learn more about the significance of baptism and how you can be baptized at Braeswood Church @ Branch Forest, by clicking HERE.

>> MEMBERSHIP
This ONLINE class is for all adults and is required to join the church. The Membership Class outlines the beliefs, mission, focus, and structure of our church, and will help explain how to take the next steps in your growth and spiritual development. To learn more as well as sign up for our next class, please click HERE.

>> SERVE
We believe that everyone was created for service, and we want to help you find your place to serve here at Braeswood Church @ Branch Forest. For more information, please click HERE.
---
CONTACT US:
Send correspondence to our Fondren Office:
CAMPUS LOCATION:
14635 Branch Forest Dr, Houston, TX 77082
(Click the image to use Google Maps)
MAILING ADDRESS:
10611 Fondren Rd, Houston TX 77096
(713) 777-1651, Office
(713) 772-1002, Fax
Stephen E. Banning
, Lead Pastor
pastor@braeswoodchurch.org
John O. Faleye
, Campus Pastor
johnf@braeswoodchurch.org
Ursula Gonzales
, Administrative Assistant
ursulag@braeswoodchurch.org